What Do Tire Numbers Mean?

As a car owner in Malibu, you might have wondered the tire number meaning when you've seen the numbers and letters on the side. So, what do tire numbers mean? The code on tires indicates three things about the tire: the size, the type of tire, and its performance purpose. Whether you're just curious or need to order new tires, learn what the numbers on tires mean with the service and parts professionals at Jaguar Santa Monica. Then, be sure to explore our service and parts specials!
Understanding Tire Number Meaning
Using a combination of numbers and letters, a tire's code tells you, and the Jaguar Santa Monica technician, the size, load index, speed rating, and type of tire your car needs to work at optimal performance in Pacific Palisades
Let's use this code as an example:
P215/65R15 95H
Each number and letter combo is conveying information about what type of tire this is:
The "P" – This stands for "P-Metric tire," meaning that it's meant for passenger vehicles.
If the tire reads "LT," or light ruck, it's meant to be used on light duty pickup trucks.
And if there is no letter before the code? Known as Euro-Metric, those tires are a European style tire, which have different load capabilities.
After the "P" is the "215" number, which stands for the width of the tire, measured in millimeters, from sidewall to sidewall.
After the forward slash, is the aspect ratio code indicated in our example by "65." This references the height of the tire's cross-section to its width. Using the example, this tire has an aspect ratio where its height is equal to 65% of the tire's width. What does this mean to Santa Monica drivers? The bigger the aspect ratio, the bigger the sidewalls will be.
The "R", meaning radial, describes the tire's construction.
"15" indicates the wheel size from one end to the other, telling service technicians that this tire is meant for a 15-inch wheel.
Finally, "95H," indicates the load index and speed rating for the tire and varies from 75-105. The load index, which is "95", dictates the amount of weight the tire can support when it's properly inflated.
"H" is the speed rating of a tire, showing how fast the tire can safely go based on its load capacity. This rating is ranked from A-Z, and with our example, a tire with an "H" rating can reach a maximum speed of 130 mph.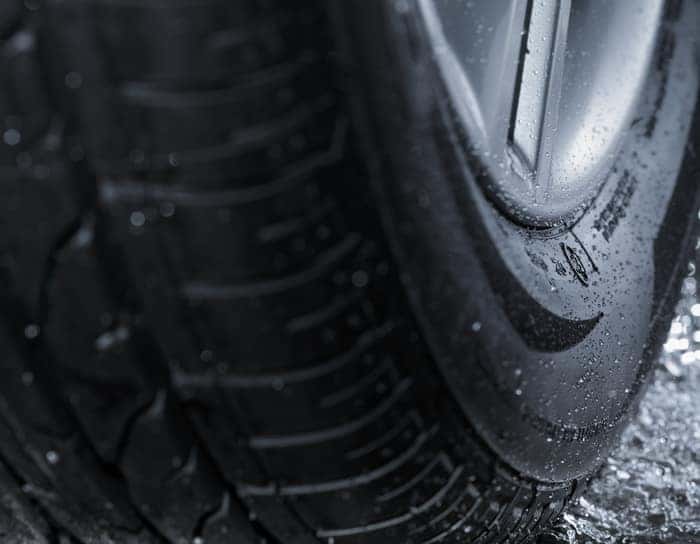 Contact the Service Team at Jaguar Santa Monica
If you'd like to know more about what tire numbers mean, contact our parts department and they'll explain everything you need to know about tire number meaning! Need a tire rotation? Schedule a service appointment with the service team at Jaguar Santa Monica.
More from Jaguar Santa Monica
The new 2022 Jaguar F-TYPE starts at $61,600 MSRP and provides drivers with sport-style front seats in premium leather in both the convertible and coupe body styles, advanced technologies, and a carefully crafted interior that has consumers and industry experts alike raving. Check out the new Jaguar F-TYPE interior when you stop by our Santa Monica…

The new 2022 Jaguar I-PACE price starts at $69,900 MSRP* for the HSE model, which is the only trim level in the I-PACE model lineup. This family-sized SUV has received high praise from consumers and industry experts alike since its debut, and the 2022 model won't disappoint. Learn about the Jaguar I-PACE MSRP, standard features,…

With Meridian™ Audio, enjoy crystal clear, concert-quality sound as you make your way to work or as you're running errands beyond Manhattan Beach. This advanced sound system is an excellent complement to the performance capabilities of a luxury vehicle like that of a Jaguar XE, F-PACE, or F-TYPE. With speakers carefully placed for maximum effectiveness, and…