How to Install a Car Battery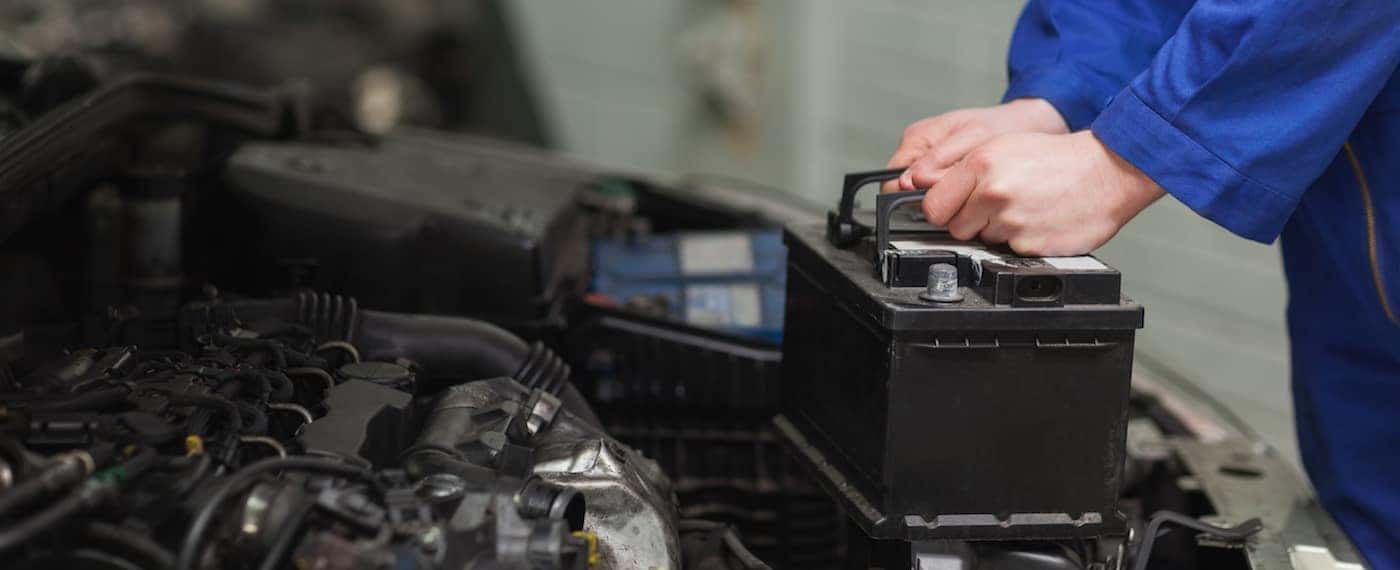 Car battery installation may seem easy, but there are a few steps needed to do it safely. If you're searching for "car battery installation near me," the team at Jaguar Santa Monica near Malibu has you covered! Learn about your vehicle's battery, safety tips, and how to install it below. Don't hesitate to reach out to our service team if you have any questions.
Car Battery Installation Steps
Start by turning off the engine and activating the parking brake. Open the hood and locate the battery. First, loosen the nut connecting the black cable (negative cable) from the battery using a wrench. Specific battery wrenches or pliers can make the job easier.

Once the nut is loosened, twist and pull the cable off. Is it stuck? Don't use a screwdriver or another tool to pry it off, because it can damage the battery.

Using the same steps, remove the red battery cable from the positive terminal.

The battery hold-down clamp keeps the battery from moving around in the engine. Loosen then remove it.

At this point, the battery is ready to be removed using both hands. The battery is heavy, and dropping it could cause an unsafe leak.

Remove any corrosion that might be in the battery tray or hold-down clamp. Use a baking soda and water solution or a battery cleaning product.

Take a wire brush and clean off the battery cable connectors with the same cleaning product.

It's time to install the new battery. Place it in the battery tray and tighten the hold-down clamp.

If you have an anti-corrosion solution, spray it on the positive and negative terminal of the new battery before connecting. This helps prevent corrosion and extends the battery life.

Attach the battery cables to the battery terminals, first connecting the red cable, then the black cable.

Check that the connections are secure, then try to move the battery to ensure it won't move.

Start the car. If you have any issues, consult with our Jaguar experts at our Pacific Palisades-area service center.
Have Your Battery Replaced Near Brentwood!
If you don't feel comfortable replacing your battery, our service team at Jaguar Santa Monica has you covered! Give us a call to schedule your service appointment, and we'll take care of your vehicle's battery!
More from Jaguar Santa Monica
The new 2022 Jaguar F-TYPE starts at $61,600 MSRP and provides drivers with sport-style front seats in premium leather in both the convertible and coupe body styles, advanced technologies, and a carefully crafted interior that has consumers and industry experts alike raving. Check out the new Jaguar F-TYPE interior when you stop by our Santa Monica…

The new 2022 Jaguar I-PACE price starts at $69,900 MSRP* for the HSE model, which is the only trim level in the I-PACE model lineup. This family-sized SUV has received high praise from consumers and industry experts alike since its debut, and the 2022 model won't disappoint. Learn about the Jaguar I-PACE MSRP, standard features,…

With Meridian™ Audio, enjoy crystal clear, concert-quality sound as you make your way to work or as you're running errands beyond Manhattan Beach. This advanced sound system is an excellent complement to the performance capabilities of a luxury vehicle like that of a Jaguar XE, F-PACE, or F-TYPE. With speakers carefully placed for maximum effectiveness, and…