How to Get Smoke Smell Out of a Car?

Buying a used cargets you an amazing deal on a pre-owned vehicle that fits within your budget. However, some used vehicles come with minor imperfections left behind by the previous owners – one imperfection in particular is the smell of smoke. Smoke spreads throughout soft surfaces and ends up staying within the fibers of the upholstery. So, how do you remove the smoke smell from a car? We have all of the details in this handy guide from the service experts at the Jaguar Santa Monica service center near Malibu.
Tips on Getting Rid of Smoke Smell in a Car
Wondering how to get cigarette smell out of a car? Removing smoke smell from a car's carpet and upholstery requires different care from leather. Before following the steps below, make sure that you have baking soda and a vacuum.
Vacuum the upholstery and carpet as thoroughly as you can. Make sure you get underneath the seats and in crevices of the seats too because old ash could be in those areas.
Then, sprinkle baking soda all over the upholstery and the carpet. Let it sit for a while as it's an odor neutralizer that captures unpleasant scents.
After letting the baking soda sit for some time, clean it up with the vacuum. If you notice there's a scent still lingering, add small amounts of baking soda to remove the scent further. Another option is leaving an open box of baking soda in your vehicle overnight to absorb the smell.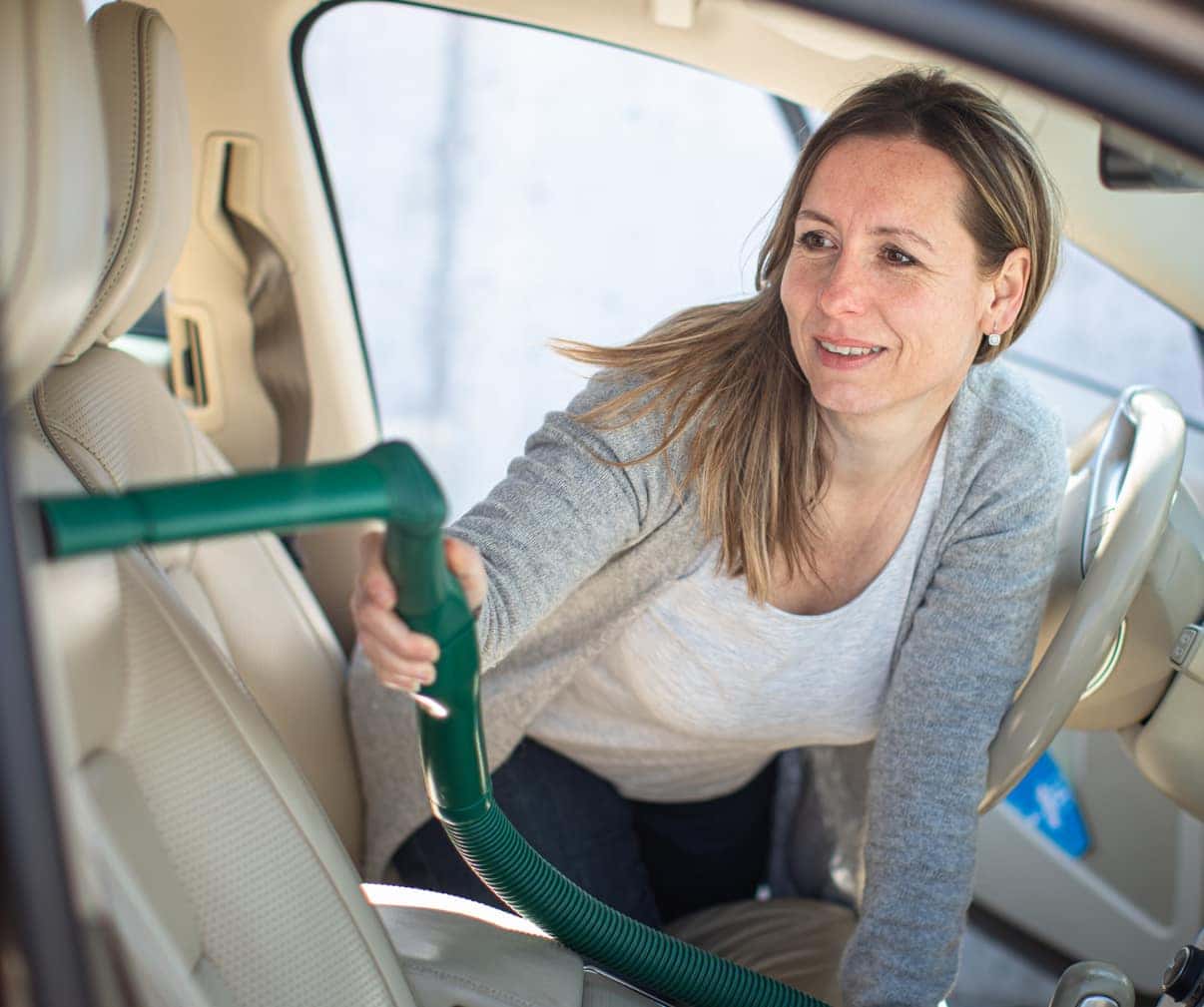 Get Smoke Smell out of a Car's Leather and Trim
The smell of smoke can also spread into the leather and leave a residue on other surfaces.
To remove the smell from the leather and trim, a special cleaner that's specifically formulated for the surface you are planning on cleaning is needed. For example, use a cleaner specifically made for leather or your vehicle's dashboard.
Clean the surfaces multiple times since the smoke smell gets deep within the surface of leather and trim. Multiple cleanings ensure that you have fully removed the scent and the residue left behind.
What About Other Areas in Your Car?
Once you have finished cleaning your upholstery, carpet, and trim, it's recommended to clean the other surfaces in your car. This means wiping down your windows, the front and back windshield, and replacing the air filter since the smoke smell can also get into the air vents.
Get Additional Tips in Santa Monica!
Whether you're looking for a new Jaguar vehicle for sale near Pacific Palisades or need additional assistance with getting the smoke smell out of your car or to learn how to detail a car or want to know how to install a car battery or how to change a car tire, the team at Jaguar Santa Monica has you covered. Don't hesitate to reach out to us with any questions!
More from Jaguar Santa Monica
The new 2022 Jaguar F-TYPE starts at $61,600 MSRP and provides drivers with sport-style front seats in premium leather in both the convertible and coupe body styles, advanced technologies, and a carefully crafted interior that has consumers and industry experts alike raving. Check out the new Jaguar F-TYPE interior when you stop by our Santa Monica…

The new 2022 Jaguar I-PACE price starts at $69,900 MSRP* for the HSE model, which is the only trim level in the I-PACE model lineup. This family-sized SUV has received high praise from consumers and industry experts alike since its debut, and the 2022 model won't disappoint. Learn about the Jaguar I-PACE MSRP, standard features,…

With Meridian™ Audio, enjoy crystal clear, concert-quality sound as you make your way to work or as you're running errands beyond Manhattan Beach. This advanced sound system is an excellent complement to the performance capabilities of a luxury vehicle like that of a Jaguar XE, F-PACE, or F-TYPE. With speakers carefully placed for maximum effectiveness, and…