How Do You Change a Car Tire?


Whether you're dealing with a flat or swapping out your summer tires in Malibu, how do you change a car tire like a pro? Though changing your tires may take some time and effort, it's a simple skill for any driver to master – and a valuable one as well! Are you searching, "how do you change a car tire" online? We have your answers!
Step By Step Instructions
Before you begin, you'll need to have the following supplies: a jack, lug wrench, spare tire or new tire(s), and your owner's manual. We recommend checking your vehicle periodically to make sure your equipment is in good working order and your spare tire is inflated properly. This can save you a major headache if you run into an unexpected flat! Then, follow these steps:
Park in a safe spot where you can work undisturbed. If you're traveling, pull off the road and turn on your hazard lights.
Apply the parking brake and place wheel wedges, bricks, or stones under the other tires.
Remove the wheel cover or hubcap and loosen the lug nuts, but don't remove them completely.
Use your jack to lift the vehicle. Remove the lug nuts.
Remove the old tire and put the new tire on.
Tighten the lug nuts and lower the vehicle back to the ground. Check the lug nuts once more.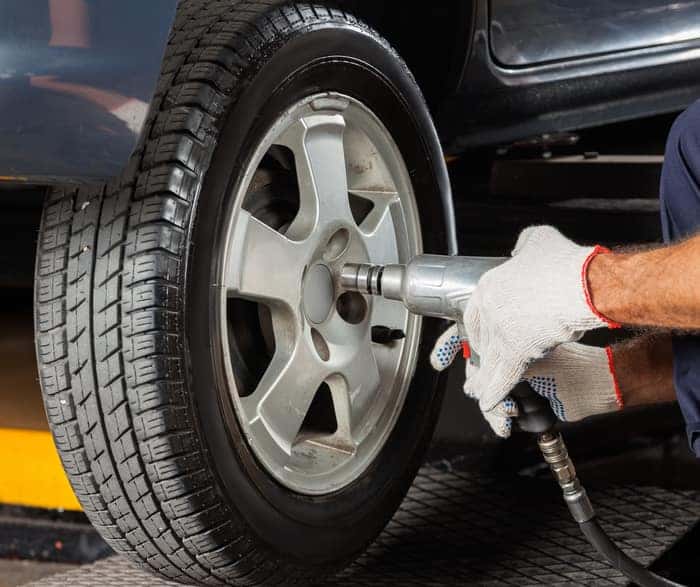 How Many Miles Can I Get on a Spare?
If you had to change a flat tire in an emergency, don't get too comfortable driving on your spare! You'll need to get a replacement tire as soon as possible. While normal tires can last years and years, spare tires are usually only built to last 50 miles or so under speeds of 50 mph or less. While there is some variation, it's still a good idea to head to the tire center at your earliest convenience.
How Often to Change Tires
Not everyone knows just how often to change tires, and the answer can vary quite a bit from driver to driver. If you keep up with tire rotations and alignments in Pacific Palisades, you may get a much longer lifespan out of your set than someone who neglects maintenance completely in Brentwood. We recommend checking your tire pressure and tire tread regularly to make sure your set is in good shape. And if you're not sure if it's time for an upgrade, feel free to request an appointment for an inspection or maintenance service at Jaguar Santa Monica.
Learn More with Jaguar Santa Monica
You know how to change a tire and how often to change tires, but do you still have questions about your car like how to remove your car battery, what do tire numbers mean or how to get smoke smell out of a car? Feel free to contact us at Jaguar Santa Monica for personalized recommendations.
More from Jaguar Santa Monica
The new 2022 Jaguar F-TYPE starts at $61,600 MSRP and provides drivers with sport-style front seats in premium leather in both the convertible and coupe body styles, advanced technologies, and a carefully crafted interior that has consumers and industry experts alike raving. Check out the new Jaguar F-TYPE interior when you stop by our Santa Monica…

The new 2022 Jaguar I-PACE price starts at $69,900 MSRP* for the HSE model, which is the only trim level in the I-PACE model lineup. This family-sized SUV has received high praise from consumers and industry experts alike since its debut, and the 2022 model won't disappoint. Learn about the Jaguar I-PACE MSRP, standard features,…

With Meridian™ Audio, enjoy crystal clear, concert-quality sound as you make your way to work or as you're running errands beyond Manhattan Beach. This advanced sound system is an excellent complement to the performance capabilities of a luxury vehicle like that of a Jaguar XE, F-PACE, or F-TYPE. With speakers carefully placed for maximum effectiveness, and…