Reviver Digital License Plate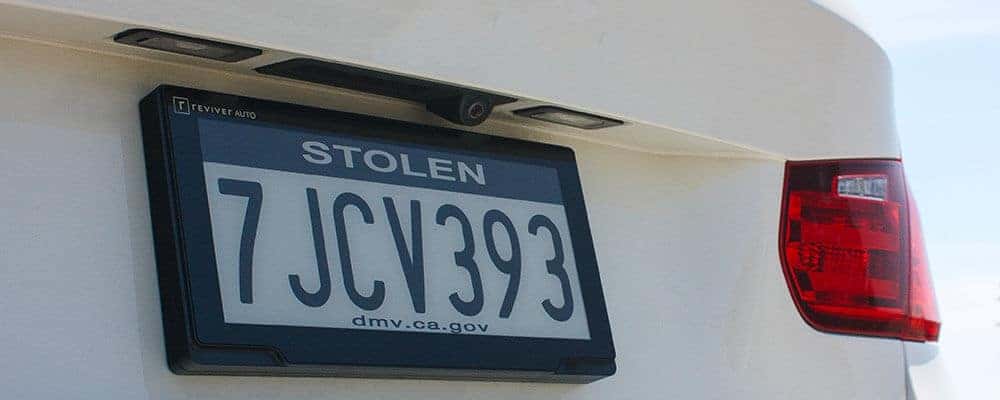 Looking for a more convenient way to register your car in greater Santa Monica, California? Then it's worth your while to get a digital license plate available as an add-on to your Jaguar purchase! Find out the convenient features offered on the Reviver Digital License Plate, and then add it on with the rest of your Jaguar accessories here at Jaguar Santa Monica!
What are the Features and Benefits of the Reviver Digital License Plate?
There are many different features that set the Reviver Digital License Plate apart from typical license plates, and each of these features will make your hectic Pacific Palisades life easier:
Registration Renewal – Renew your license plate with the California DMV without having to purchase new stickers every year.
Plate Customization – Keep your current plate numbers, get a personalized one, and take advantage of multiple plate messages on the button. Plates for special interests and causes are coming soon.
Security – These plates come with security features like anti-theft, tamper-proofing, and key encryption to make them harder to steal.
Telematics – Locate your Jaguar vehicle, and track the date, time, distance, and route of the vehicle over time.
Geo-fencing – Set geographic limits for your teen driver with geofencing, which will alert you with notifications when the vehicle has moved outside boundaries you have set for it.
Advertising – Use your license plate to advertise your business with targeted marketing messages, corporate branding, and personalized messages. This feature will be offered later in 2018.
Get All Your Jaguar Accessories from Jaguar Santa Monica
Whether you're looking for a quality lineup of new Jaguar vehicles, or a way to take care of professional luxury car care, the staff at Jaguar Santa Monica is here to help. Come in today to buy your digital license plate at our dealership in Santa Monica! Contact us to get started.
Related Posts from Jaguar Santa Monica
Many Malibu shoppers can't stop raving about the 2023 Jaguar E-PACE interior cabin. With its exceptional balance of luxury and practicality in a compact frame, this is one vehicle that's sure to take your drives to the next level. Jaguar Santa Monica has your guide to the Jaguar E-PACE capacity and features so you can see why…

Malibu shoppers interested in the look and feel of a Jaguar electric SUV will enjoy everything the 2023 Jaguar I-PACE interior cabin offers. Jaguar Santa Monica has your guide to the Jaguar I-PACE dimensions and how the luxurious interior cabin can help enhance your overall driving experience. Explore our current inventory to find the new Jaguar I-PACE…

The 2023 Jaguar F-TYPE is a striking vehicle that's sure to turn heads all over the Malibu and Pacific Palisades roads, and you can customize your car to perfection with a wide range of interior and exterior colors. So, what are the 2023 Jaguar F-TYPE colors? Jaguar Santa Monica has done the research for you, so take a…