Jaguar vs. Leopard: Jaguar XE Versus The Big Cat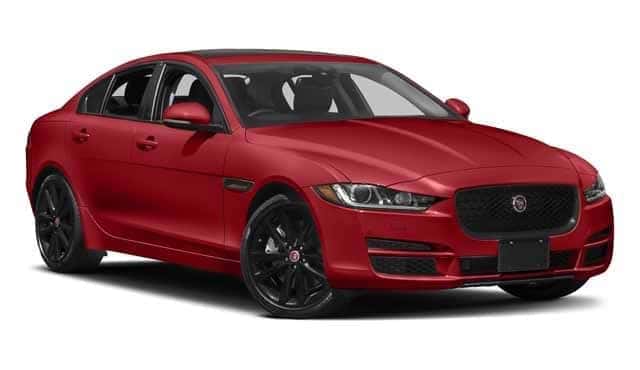 Shopping for a Jaguar XE or leopard for your I-10 cruise? Look no further than the Jaguar XE. The Jaguar XE outperforms the leopard in these key commuter areas:
Top speed

Jaguar XE = 120 MPH
Leopard = 36 MPH

Comfort

Jaguar XE = Seats five
Leopard = Seats one with a saddle

Safety

Jaguar XE = AWD, Torque Vectoring, and Adaptive Surface Response
Leopard = Protection against predators, but no seatbelts

Efficiency

Jaguar XE = 28 combined MPG
Leopard = No gas. Fueled by gazelles, impalas, and deer – you're better off finding a gas station.
Speed
When trying to get to work in Manhattan Beach, or simply enjoying a leisurely drive to your favorite sushi spot, you want to make sure your ride can go fast. The Jaguar XE provides drivers a top speed of 120 MPH with its 2.0L 247 HP turbocharged 4-cylinder engine. A leopard, on the other hand, can only go 36 MPH. The leopard doesn't even have an engine.
Comfort
When thinking about getting a new ride, comfort is a crucial concern to Venice drivers. With a Jaguar, you get five leather seats, Jaguar InControl® technology, and more. Plus, you can seat passengers in your travels. With a leopard – if you are able to throw a saddle on it – you can take one person somewhere slowly. It's clear: the Jaguar XE is the winner.
Safety
The Jaguar XE provides walls, doors, airbags, seatbelts, headlights, at the most basic level. The leopard is a wild animal; you won't even get seatbelts. The Jaguar XE provides premium safety features. The leopard? No way.
Efficiency
The leopard's lack of engine, no doubt, calls its efficiency into question. The Jaguar XE, however, gets a solid 28 combined MPG. The Leopard needs fuel from gazelles, impalas, or deer, all of which can be hard to spot – or fairly expensive – in busy Santa Monica.
Look No Further than the Jaguar XE
The Jaguar XE is a good choice when considering your next luxury car. It not only beats out the leopard, but the Lexus IS, as well. Explore more Jaguar trivia, and then get your Jaguar XE at Jaguar Santa Monica today!
Latest News from Jaguar Santa Monica
The Jaguar F-PACE SUV unites award-winning design, the most advanced intelligent driver-assist technology, and classic Jaguar performance. With all that going on, there's simply no way to take an ordinary drive in Malibu. Join the team at Jaguar Santa Monica as we explore upscale features like Jaguar F-PACE ventilated seats and a sliding panoramic glass roof,…

The 2020 Jaguar F-PACE starts at $45,200 MSRP and includes the standard all-wheel drive and nine trim levels. Learn about our Jaguar F-PACE price and standard interior features for each configuration at Jaguar Santa Monica before reaching out to our team to schedule a test drive of this compact crossover SUV near Malibu! Learn More View…

The 2020 Jaguar XE may be built for performance, but that doesn't mean you have to sacrifice fuel economy. Rated at an EPA-estimated 25 city/34 highway miles per gallon, the XE sports a muscular 247-hp base engine that's designed to conserve fuel – whether you're negotiating traffic in downtown Malibu or hitting the highway…
Jaguar Santa Monica Reviews
I've bought an easy 15 cars (new and used) in my life. Today, I bought a vehicle from Gary. Easy. No, "oh, we forgot about this fee" bullshit. In and out at the agreed on price within an hour. Recommend.
My experience at this dealership was nothing short of amazing. Vivian is the absolute best--fun, smart, quick and straightforward. The whole process was so streamlined, many steps were able to be done over the phone and online and I only spent about an hour at the dealership (when it usually feels like 4-5)! When I arrived at the lot they had put a bow on my car, everything felt really special and like they actually cared. Not to mention, I'm in love with my new car. Can't recommend Vivian and the whole team here enough!!
Rarely do you meet someone in the auto business as professional, caring & smart as Vivian. We came in with a very clear direction on what we want and for how much. But that wasn't enough for Vivian, she wanted us to enjoy the experience! And thanks to her, we did!!! She went above and beyond to ensure we were smiling the entire time. I am so grateful to Vivian for taking what usually is a stressful purchase & turning it into a real pleasure for myself and my better half. I would recommend working with Vivian 100x over. ...
Kenny and Vivian were both so helpful and accommodating. I leased a car on my own for the first time and they both made the experience so smooth. I got such an amazing deal that was way less than any of the nearby Land Rover dealerships! I will definitely work with them on any future Land Rover purchases.
This is my first Yelp Review. I was recently in the market for a new/used Range Rover for my wife. We are familiar with these cars as we have owned several. After monitoring the dealerships in my area (I live in Newport Beach,) I found the prices to be more competitive in Los Angeles. After an unfortunate experience at a "sister" dealership, I had the opportunity to deal with Gary Warners in the Sales Department at Hornberg Santa Monica Land Rover. Though initially he didn't have the car I was looking for, he was responsive and professional. Within ...
5 stars for the amazing customer service my husband and I received from Gary in the sales department at the Land Rover Santa Monica dealership, as well as the rest of the team there. I now own my dream car! Not only is the car incredible to drive but the price was way below other dealerships in the O.C. and LA area. I would definitely recommend Gary and this dealership to anyone in the market for a new or slightly used car.
This is regarding the service department. Maria Garcia is a total professional, and an asset to the company.
What an awesome experience.  In an LA market over saturated with German cars my emotional attachment to the Jaguar brand started with my XF. I'm on my second Jag which I love so much I'm already planning on purchasing the car at lease end. The XE dynamic is not only a better handling car on the road than it's competitors but the technology is unmatched, elegant (forget the plethora of confusing buttons ) simple and ergonomic.  Special thank you to Vivian Naeish the sales manager and Aleks Stanisic. The buying process was smooth and effortless. Aleks is a ...