Jaguar vs. Leopard: Jaguar XE Versus The Big Cat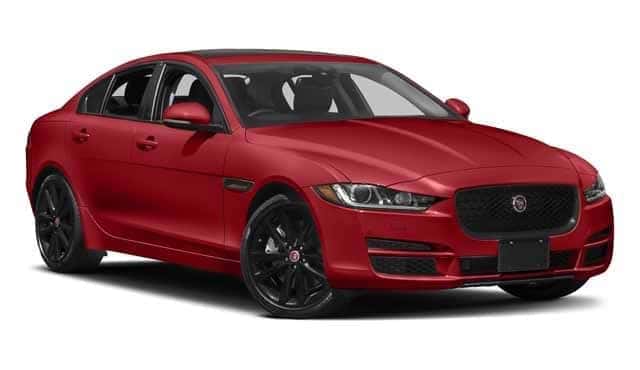 Shopping for a Jaguar XE or leopard for your I-10 cruise? Look no further than the Jaguar XE. The Jaguar XE outperforms the leopard in these key commuter areas:
Top speed

Jaguar XE = 120 MPH
Leopard = 36 MPH

Comfort

Jaguar XE = Seats five
Leopard = Seats one with a saddle

Safety

Jaguar XE = AWD, Torque Vectoring, and Adaptive Surface Response
Leopard = Protection against predators, but no seatbelts

Efficiency

Jaguar XE = 28 combined MPG
Leopard = No gas. Fueled by gazelles, impalas, and deer – you're better off finding a gas station.
Speed
When trying to get to work in Manhattan Beach, or simply enjoying a leisurely drive to your favorite sushi spot, you want to make sure your ride can go fast. The Jaguar XE provides drivers a top speed of 120 MPH with its 2.0L 247 HP turbocharged 4-cylinder engine. A leopard, on the other hand, can only go 36 MPH. The leopard doesn't even have an engine.
Comfort
When thinking about getting a new ride, comfort is a crucial concern to Venice drivers. With a Jaguar, you get five leather seats, Jaguar InControl® technology, and more. Plus, you can seat passengers in your travels. With a leopard – if you are able to throw a saddle on it – you can take one person somewhere slowly. It's clear: the Jaguar XE is the winner.
Safety
The Jaguar XE provides walls, doors, airbags, seatbelts, headlights, at the most basic level. The leopard is a wild animal; you won't even get seatbelts. The Jaguar XE provides premium safety features. The leopard? No way.
Efficiency
The leopard's lack of engine, no doubt, calls its efficiency into question. The Jaguar XE, however, gets a solid 28 combined MPG. The Leopard needs fuel from gazelles, impalas, or deer, all of which can be hard to spot – or fairly expensive – in busy Santa Monica.
Look No Further than the Jaguar XE
The Jaguar XE is a good choice when considering your next luxury car. It not only beats out the leopard, but the Lexus IS, as well. Explore more Jaguar trivia, and then get your Jaguar XE at Jaguar Santa Monica today!
Latest News from Jaguar Santa Monica
Searching for a one-of-a-kind luxury compact SUV to recharge your day-to-day Malibu drives? The E-PACE delivers SUV muscle, efficiency, premium performance, and the high-end interior features you'd expect from a Jaguar. Read below for a closer look at the 2020 Jaguar E-PACE interior — from a long list of premium standard features, luxurious upgrades, and…

Are you interested in the 2020 Jaguar F-TYPE? This luxury car has five configurations, from a chic coupe to the sporty convertible. Explore the different Jaguar F-TYPE trim levels and standard features to find the vehicle best suited for you. After exploring the Jaguar F-TYPE configurations, get in touch with our sales team and…

There's nothing like taking a Jaguar on the streets of Malibu. But can you hitch your boat or RV to your 2020 Jaguar F-PACE and tow it? You can! How much can the Jaguar F-PACE tow? Depending on the trim level you choose, your F-PACE can tow up to 5,291 pounds. Take a look at…
Jaguar Santa Monica Reviews
I had such a great experience today at Hornburg Sta Monica. Reading some of these reviews made me hesitant, but they had the vehicle I wanted. And I'm so glad I went! Darryl was easy to work with and after talking with him, I knew this was the right place compared to the other Hornburg dealership I had visited. Vivian sealed the deal. Thanks everyone! I love my car!!!
What a surprise! I met w Max and Vivian who really helped me to understand the car buying process. They're personable and really knowledgable, as well as honest. They answered all my questions and made the experience smooth for me. They just re-opened too, and the store is very clean w hand sanitizing stations throughout. I felt safer seeing that. Overall terrific experience. Recommending this place to my friends & family. AWESOME. Thanks!
Late March 2020 I leased a Range Rover HSE. With the guidance, the expertise and the patience of my salesman Steliani Tomozei, I got the car that I wanted. He made sure that I knew how to drive it off the lot accompanied by all the bells and whistles that applied to me. This is the second Range Rover that I have leased through him and I hope there will be many more.
I mean what an experience!! Kenny and Vivian are complete professionals that understand what they are doing and most importantly know how to treat a customer. What started as an inquiry over the phone with in an hour turned into me driving to the dealership to sign the papers. It's exciting to get a new car and even more exciting when everyone involved has the same enthusiasm. Kenny was very thorough and Vivian locked it in with an offer that was so unbelievably you couldn't even imagine. The best and easiest experience!! The dealership is super clean, they have a ...
Thank you for everything guys! It was a smooth transition! Love my new car!
Kenny was super helpful and knowledgeable when picking out a car suitable for my needs. If you go to get a Range Rover or Jaguar ask for Kenny by name. Thanks Kenny for getting me the best deal on a R-Dynamic Range Rover Evoque.
We had a fantastic experience buying a Land Rover from Hornburg Santa Monica, and particularly working with Gary. He was able to quickly determine over the phone that he had a vehicle we were interested in, and made things happen really seamlessly when we visited the dealership later the same day. Gary was incredibly knowledgeable about all the packages, options, and features of the different models, and made our decision super easy. We were in and out in 3 hours, which is an absolute record! And, Gary was so nice, super smart, and just a pleasure to do business with. Would ...
Great purchase experience including Victoria's excellent review of all the car's features. She is very patient, courteous and knowledgeable.