Jaguar Electric Car Innovations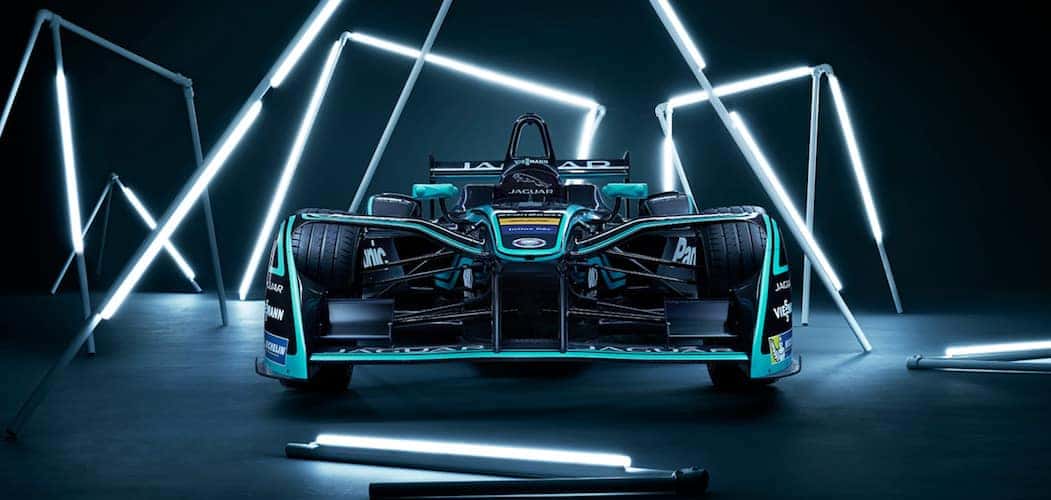 The Jaguar hood ornament signals luxury, style, and performance, not to mention innovation. Nowhere is that innovation more apparent to Malibu drivers than the many exciting Jaguar electric car technologies we've been hearing about as of late. Jaguar has synthesized zero emissions and robust performance within a single package with both the Jaguar I-PACE and the brand's electric race car engineering. Enjoy this exclusive sneak peek from your certified Jaguar dealer in Santa Monica.
Jaguar I-PACE
An all-new model for the 2019 model year, the Jaguar I-PACE delivers uncompromising performance across the line, all while providing the cargo utility of an SUV. Performance highlights on all trims of the new Jaguar electric car include:
Lithium-ion 90 kWh battery pack
Dual electric motors
394 hp and 512 lb-ft of torque
All-wheel drive (AWD)
234 miles of driving range
0-80% charge in just 45 minutes with 100 kW DC charge rate
Battery preserving range technology
Eco Mode
The all-new Jaguar I-PACE starts at an MSRP from $69,500, but the state of California also offers incentives for EV shoppers in an effort to help lower emissions in the state.
Jaguar Reinvents the Electric Race Car
While the Jaguar I-PACE serves up a blistering street performance that is impressive in its own right, the Jaguar brand's electrification efforts don't stop there. There's also:
Jaguar I-TYPE 2 – The Jaguar I-TYPE 2 is the second rendition of this all-electric Panasonic Jaguar Racing Car. With a max output of 200 kW (~270 bhp), the I-TYPE 2 serves up heart-pounding performance specs, including a 0 to 60 mph time of just 2.9 seconds and a max speed of 140 mph.
Jaguar I-PACE eTrophy – Jaguar is revolutionizing Formula E racing with its introduction to the ABB FIA Formula E Championship.
Jaguar Santa Monica is Your Source for Electric Car News
Make the trip from Pacific Palisades to check out the entire new Jaguar lineup at Jaguar Santa Monica. Feel free to also contact us with any questions about Jaguar electric cars, electric vehicle charging times, or even where to find electric charging stations near Brentwood. We're open seven days a week, and you can find us at 3020 Santa Monica Boulevard in Santa Monica, CA.
---
Related News from Jaguar Santa Monica
Malibu shoppers interested in the look and feel of a Jaguar electric SUV will enjoy everything the 2023 Jaguar I-PACE interior cabin offers. Jaguar Santa Monica has your guide to the Jaguar I-PACE dimensions and how the luxurious interior cabin can help enhance your overall driving experience. Explore our current inventory to find the new Jaguar I-PACE…

The 2023 Jaguar F-TYPE is a striking vehicle that's sure to turn heads all over the Malibu and Pacific Palisades roads, and you can customize your car to perfection with a wide range of interior and exterior colors. So, what are the 2023 Jaguar F-TYPE colors? Jaguar Santa Monica has done the research for you, so take a…

If you've had your eyes on the 2022 Jaguar F-PACE, you'll be happy to know that the Jaguar F-PACE color options for both the interior and exterior are impressive! Whether you're going to lease or finance your luxury vehicle, do a custom order of your design, or visit our Santa Monica dealership, you can always…