How to Charge a Jaguar I-PACE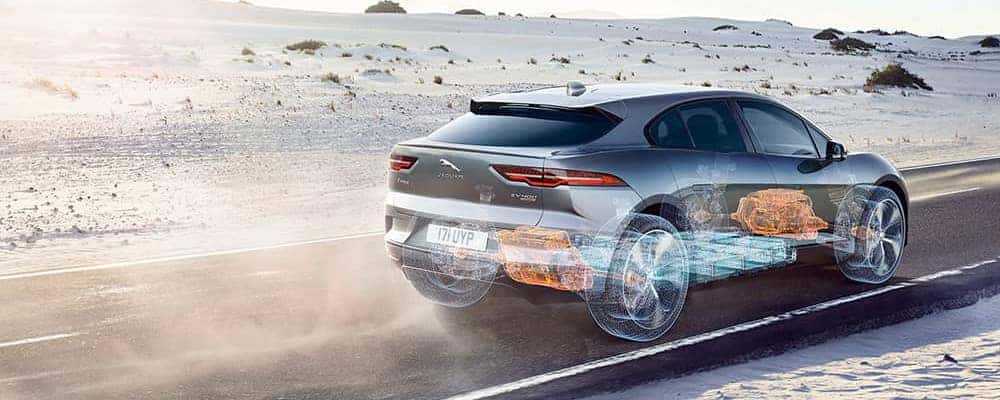 Ever wondered how to charge an electric car? Electric vehicles like the all-new Jaguar I-PACE, give you the option of charging at home or at on-the-go at public charging points around Pacific Palisades. Learn more at Jaguar Santa Monica, then find a new Jaguar I-PACE for sale near you and learn more about I-PACE models and available electric vehicle tax incentives!
How Does Electric Car Charging Work?
Electric cars have a lithium-ion battery that powers the vehicle's electric motor, and like any other battery, it needs to be charged after a while. The Jaguar I-PACE 90 kWh battery has up to 234 miles of range, so you could take a long day trip out of Santa Monica worry-free.
Things to know about I-PACE charging:
Cabin climate, driving habits, traffic, and extreme temperatures can affect the charge level.
The I-PACE charge point is located behind the driver-side front wheel arch, and when plugged in you can leave the vehicle to charge. It will stop charging when full charge is reached.
The charging system is self-contained, so it's safe to charge outside even in rain and snow.
To save your battery, use the cabin pre-conditioning function while your I-PACE is still plugged in.
While driving, Eco Mode helps preserve the I-PACE range by making changes to the vehicle's performance systems, cabin temperature, and more.
Jaguar I-PACE Home Charging
When it comes to charging at home, you can either use a normal 120-volt domestic outlet, or you can have a Jaguar-approved home charger installed for faster charging.
Domestic Socket Charger: Charging overnight can typically cover an average 30-mile daily commute.
Jaguar Home Charger: Get 0-80% charge in 10 hours, or 100% charge in 12 hours.
Cost to Charge: To estimate the cost of fully charging your Jaguar I-PACE at home, multiply the rate you are charged per kWh as indicated on your electric bill by 90 since the I-PACE has a 90 kWh battery.
Public Charging Stations Near Malibu
AC and rapid DC charge points are available at primo parking spots in public places like parking garages, gyms, movie theaters, and malls. DC chargers especially are a great fast charging option when you are out and about or departing for a long drive around Brentwood.
The common 50 kW DC rapid chargers can provide 0-80% charge in 85 minutes.
100 kW DC rapid chargers offer a faster charge rate, delivering 0-80% charge in 45 minutes.
Local charging points will be indicated in the I-PACE Navigation System.
Experience the I-PACE at Jaguar Santa Monica
Learn more about Jaguar I-PACE features and dimensions, or compare electric vehicles like the Jaguar I-PACE vs. Tesla Model X, and contact us for a test drive when you are ready to witness this cutting-edge technology in person.
Learn More at Jaguar Santa Monica
If you've had your eyes on the 2022 Jaguar F-PACE, you'll be happy to know that the Jaguar F-PACE color options for both the interior and exterior are impressive! Whether you're going to lease or finance your luxury vehicle, do a custom order of your design, or visit our Santa Monica dealership, you can always…

The 2023 Jaguar I-PACE takes the sleek style and thrilling performance of the iconic Jaguar and adds an electrifying twist. This award-winning SUV runs on pure electricity for gas-free and emissions-free travels, but just what is the range of a Jaguar I-PACE? The Jaguar I-PACE range is well over 200 miles on a single…

The interior cabin of the latest Jaguar XF offers impressive capabilities and luxuries that will never leave you wanting more — and it comes at a price that won't break the bank. Malibu drivers can learn more about the Jaguar XF design and interior features before visiting our Santa Monica dealership for a test drive. Explore…