How Much Can the 2020 Jaguar F-PACE Tow?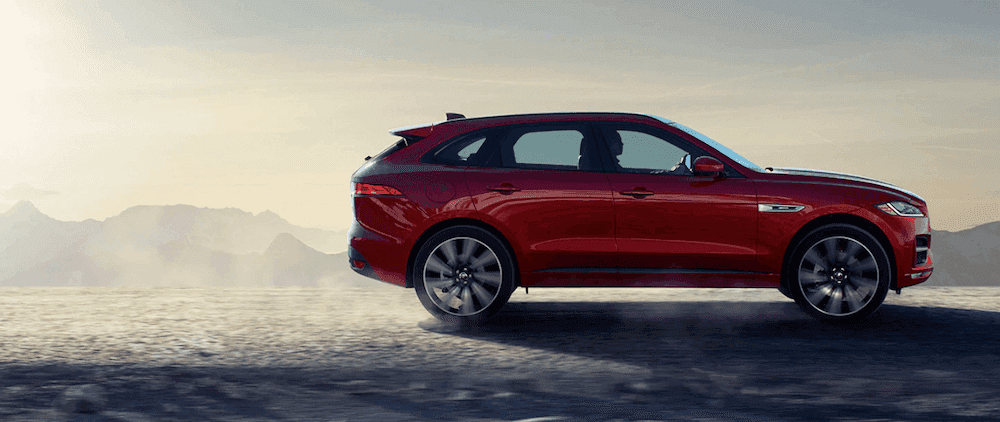 There's nothing like taking a Jaguar on the streets of Malibu. But can you hitch your boat or RV to your 2020 Jaguar F-PACE and tow it? You can! How much can the Jaguar F-PACE tow? Depending on the trim level you choose, your F-PACE can tow up to 5,291 pounds. Take a look at what makes the Jaguar F-PACE towing capacity better than the competition with Jaguar Santa Monica.
Jaguar F-PACE Towing Features
Having the power to tow is one thing, but it's the towing features that can make your towing experience in Pacific Palisades excellent or merely adequate. Here are some of the features you'll find that bolster the Jaguar F-PACE towing capacity:
Tow Assist and Hitch Assist give you eyes in the back of your head when it displays projected lines on rearview camera display for guidance when hitching and reversing your trailer.
Standard Trailer Stability Assist detects when trailer sway is starting. Dynamic Stability Control gradually reduces vehicle speed to regain control.
Standard Torque Vectoring by Braking delivers independent braking when going around curves to maximize stability and cornering.
Adaptive Dynamics adjust the dampers to match road conditions and driving style for optimum balance.
All Surface Progress Control maintains speed and control in low-traction conditions.
Intelligent Driveline Dynamics improve handling and reduce understeer.
Driver-Assistance features include 360° surround camera, blind-spot assist, high-speed emergency braking, adaptive cruise control with steering assist, and more.
Genuine Jaguar F-PACE towing accessories like tow straps and hitches are available through the Jaguar Santa Monica parts department.
How Much Can the Jaguar F-PACE Tow?
While Brentwood drivers have four choices in engines for the F-PACE, the towing capacity remains 5,291 pounds. Still, you have other driving needs beyond towing. Choose the Jaguar engine that best suits your needs:
247 hp 2.0L turbocharged 4-cylinder engine — 269 lb-ft of torque, 5,420 pounds gross vehicle weight
296 hp 2.0L turbocharged 4-cylinder engine — 295 lb-ft of torque, 5,420 pounds gross vehicle weight
380 hp 3.0L supercharged V6 engine — 332 lb-ft of torque, 5,510 pounds gross vehicle weight
550 hp 5.0L supercharged V8 engine — 502 lb-ft of torque, 5,620 pounds gross vehicle weight
Find the Jaguar F-PACE at Jaguar Santa Monica!
Find a great Jaguar F-PACE lease deal with Jaguar Santa Monica while browsing our extensive selection from the comfort of your home! Contact us today with any questions or to get the process started.
More From Jaguar Santa Monica
The 2020 Jaguar I-PACE is the luxury automotive maker's first electric SUV, and this much-talked about vehicle offers an award-winning design and a plethora of interior amenities to enhance your drives around Malibu. Explore our guide to the Jaguar electric SUV's interior dimensions. Be sure to check out our inventory to find a new…

If you're like a lot of our Santa Monica customers, you like to do your research before you make a purchase of a vehicle, even a famously luxurious SUV like the Jaguar F-PACE. Well, the 2021 Jaguar F-PACE reviews are in, and they are effusive with praise. View F-PACE Inventory Contact Ust Car and Driver's…

If you're searching for electric cars in the Malibu area, Jaguar I-PACE models are excellent options and can even stand out against rivals like the Tesla Model X. Explore each Jaguar I-PACE trim level to see which configuration is best for your Pacific Palisades drives. Our team is standing by to get you behind the…
More From Jaguar Santa Monica
The 2020 Jaguar I-PACE is the luxury automotive maker's first electric SUV, and this much-talked about vehicle offers an award-winning design and a plethora of interior amenities to enhance your drives around Malibu. Explore our guide to the Jaguar electric SUV's interior dimensions. Be sure to check out our inventory to find a new…

If you're like a lot of our Santa Monica customers, you like to do your research before you make a purchase of a vehicle, even a famously luxurious SUV like the Jaguar F-PACE. Well, the 2021 Jaguar F-PACE reviews are in, and they are effusive with praise. View F-PACE Inventory Contact Ust Car and Driver's…

If you're searching for electric cars in the Malibu area, Jaguar I-PACE models are excellent options and can even stand out against rivals like the Tesla Model X. Explore each Jaguar I-PACE trim level to see which configuration is best for your Pacific Palisades drives. Our team is standing by to get you behind the…